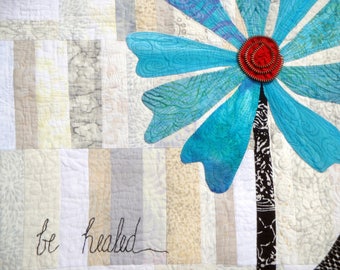 Prompt

Day #20: Write a poem in response to one of your favorite pieces of art.
This is one of my favorite creations to date.
Familiar design of previous healing art,
Spirit prompted again stitching start.
Healing the goal,
In quiet moments sewed,
Beauty from ashes again.
Obedience allows the balm to unfold
Healing through art the goal.
And then
Released to heal others in unique new space,
To soothe and heal through grace
Today's block for the back of my bed quilt features a multicolored batik
with a blue striped batik.
Julie Bagamary Art For Sale
Pin It